The grounds - Building the vcac
the original a-frame and the Seeger studio barn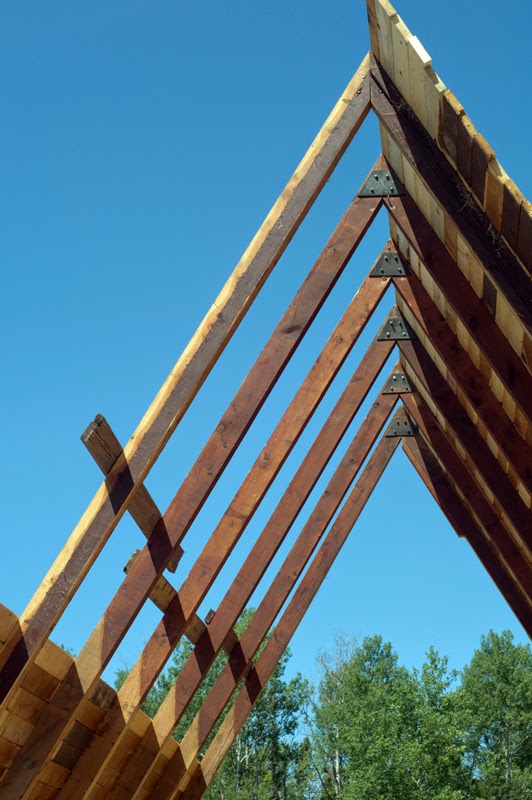 Once the Sylvania Wilderness Entrance Station,
we rebuilt the A-frame on our site in the UP
Holes were augured for a barn foundation,
and Mel Seeger built our barn by hand!
We helped finish the decks,
and began furnishing the inside.
Upstairs is the Bird's Nest Lounge,
useful for studio work too.
When it was finished, we celebrated!
We adore the Seeger Studio Barn!
the kitchen - chow hut and great hall Picnic Pavilion
Starting with a simple shelter,
we built the Chow Hut in 2014.
We fitted it with shelving, counters,
and a dish washing station,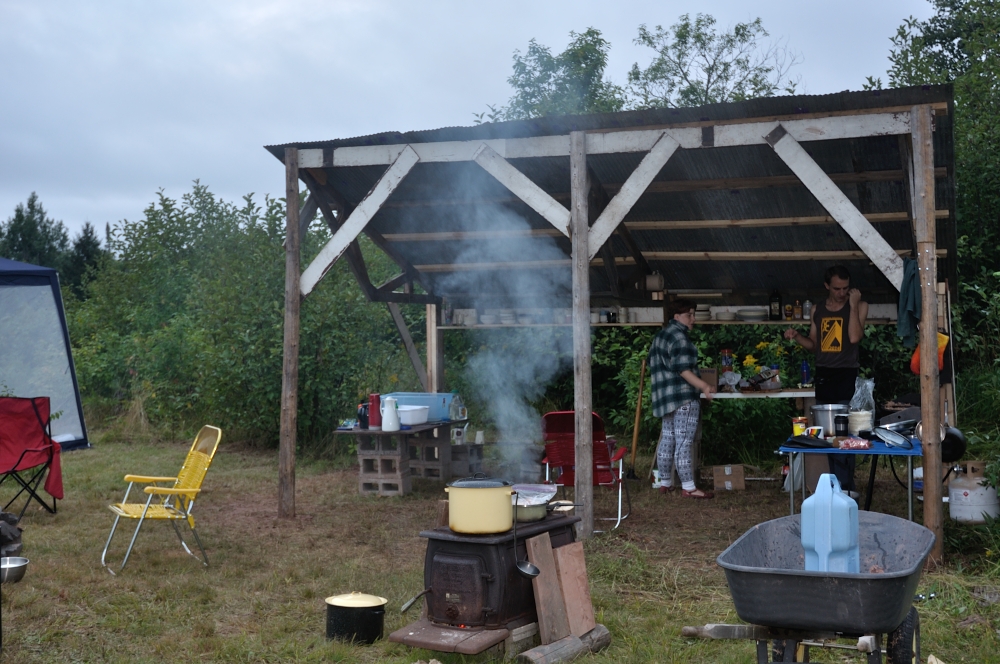 using all reclaimed materials!
We cook with wood and propane stoves.
We made a bivouac & repaired picnic tables,
but soon Mel and Cameron went to work,
using lumber Mel milled himself,
to build a beautiful new dining pavilion
next to our little Chow Hut.
We call it the Great Hall.
with reclaimed siding from an old barn.
We love our Great Dining Hall!
We built boxes to fit 5-gallon buckets,
made t.p. holders from coffee cans,
and set up outdoor privies in the trees.
We built a corral for composting the waste.
Mel Seeger built us some sheltered outhouses,
and we cut windows and installed screens.
We use peat moss to aid in composting.
Now you can choose to go inside,
or outside! Creating wonderful hu-manure!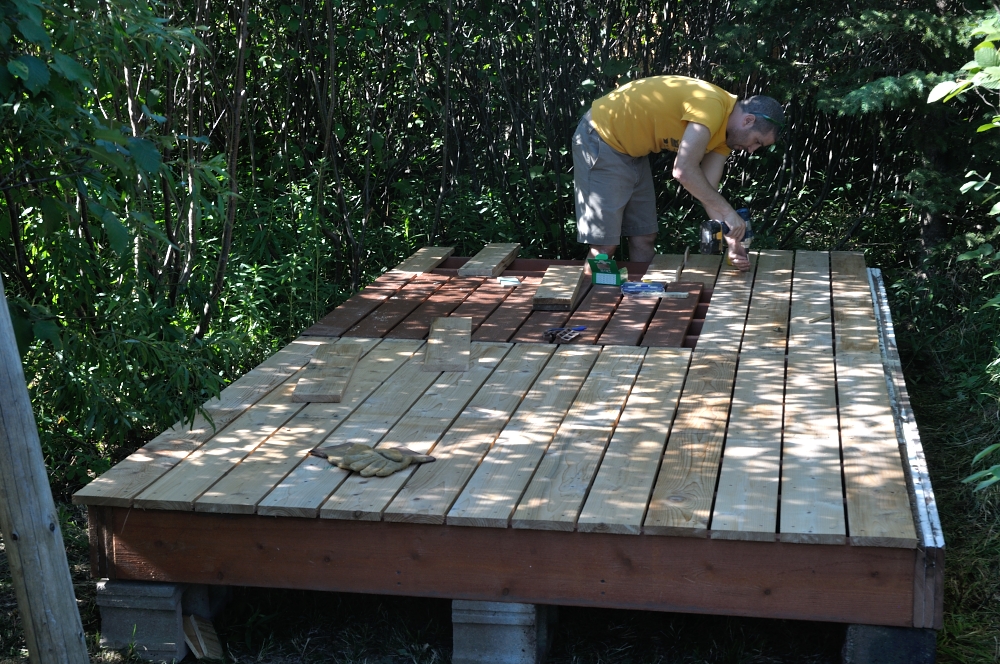 using all reclaimed wood and vinyl planks.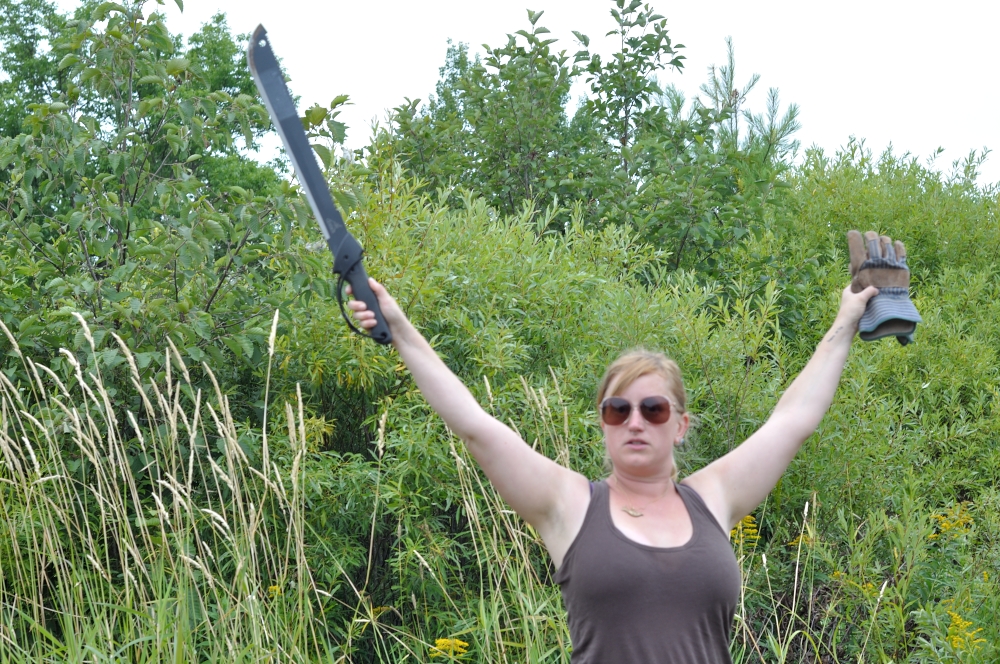 whacked through bushes to bury the water line,
and used a pickle barrel for the water tank.
But it couldn't take the pressure!
So we adapted an old water heater tank,
and set up a utility sink and faucet.
We placed the tank on top
to utilize gravity and the warmth of the sun.
We painted the tank black!
Now we have a solar-heated shower!
trails, campgrounds, and the palace
We have miles of hiking trails!
They are all marked and color-coded.
Every year we clear the trails.
Cameron keeps them mowed for ease!
We have lots of space for camping!
up the hill, or hidden in the trees!
Fire pits make great hangout spots!
You'll see many beautiful sights,
from wildflowers, to wild berries,
You'll see bridges we built out there, too.
The Palace is a reclaimed hunting blind,
wonderful for a solitary studio experience!
You may even come across an art installation,
or maybe you'll add your own!
If you venture down the right trail,
There is a hidden stage out there too,
built by an artist! It's great for performances!
Mix ecology, sculpture, music, & performance!
Motion-activated trail cameras give a glimpse
of the shy wildlife hiding in the woods.
If you're lucky you'll catch your own glimpse!
Local clay workshop - studio builds
At first, we dried all our clay outside,
in the sun or around a fire.
But sometimes it rains, and there's no sun,
so we stacked up drying racks above hot coals.
We needed more shelter, but had limited time.
So with a basic design and Mel Seeger's help,
we built a temporary drying shelter,
with a fire pit for making coals nearby.
We used reclaimed barn siding for the roof,
and made space for a covered raku-firing area.
We made a flue for venting the kiln fumes,
and our Fire Shed was cookin' day and night!
For our 2017 Sustainable Building Workshop,
we're building a larger, permanent Fire Shed,
for all our drying and firing needs!
We'll be converting this electric kiln to gas,
for ceramic shell wax melt-out and firing!
We've also installed this beautiful outdoor kiln,
a raku-kiln from the U of MN Art Department!
We hauled it from MN to the UP,
and with much help from our Yooper friends,
We leveled a site, and placed our new kiln!
We still have work to do, to make it operational,
but it's an incredibly exciting work in progress!
The "Octonagon" Grillikota